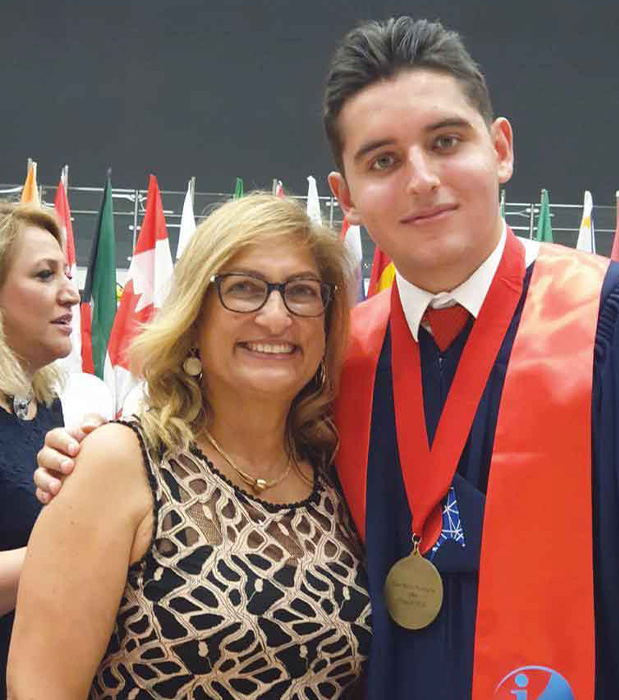 There From The Beginning
Sam Pousafar
Sam Pousafar stepped into Rhonda Lakin's class as a KG pupil and years later he asked her to introduce him when he did his valedictorian speech. We chat to them about their strong student-teacher relationship.
When Sam Pousafar was selected as valedictorian of GEMS Dubai American Academy's (DAA) class of 2019, he was told he had to choose somebody special and he could pick any teacher that he felt had helped him throughout the years. He chose Rhonda Lakin, a KG teacher who was also his first teacher when he started school as a kindergartener.
Interview
With Sam and Miss Rhonda Lakin
Memory Lane
Although Rhonda doesn't remember Sam's first day specifically, she does remember him as her student – a shy boy with definite ideas about what he did and didn't want to do. He was obsessed with dinosaurs and every time there was an activity that involved dinosaurs in any way, he wanted to assist in the lesson.
As Sam leaves DAA for university and Rhonda retires from full-time teaching, they both have extremely fond memories of their time at the school. Sam loved how diverse the student body was, with some students coming from countries he hadn't heard of. He said it was good to have an all-round education and be exposed to different cultures.
For Rhonda the experience was a bit more varied, considering that she taught around 350 students over her 17 years at the school, and each year provided many fond memories. "A lot of what I like about GEMS is it's so diverse in its student populations, its sports, its curricula. It's so multicultural which is great for the world we live in today," she said.
She has exciting times to look forward to with her family. She became a grandmother for the first time this July, and she plans to visit her daughter and the baby in Colorado. One of her daughters got married this July in Devon, and another daughter will get married in Scotland in May. She hopes to be a substitute teacher at DAA.
Sam will attend the University of California, Los Angeles (UCLA), where he has been accepted in the Honours Programme. He has yet to declare a major but is open to the options available once he starts his studies.