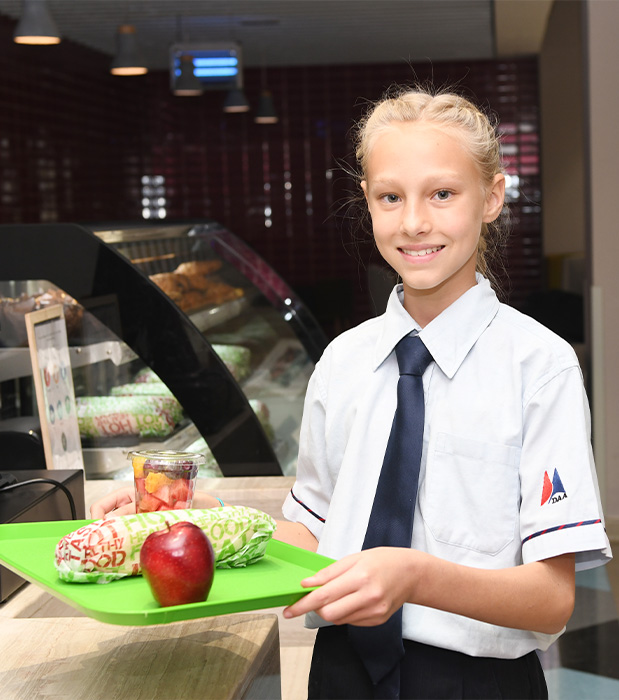 Slices Catering
Slices Lunch Service
Dubai American Academy is proud to partner with Slices, our school food provider. Slices is a home-grown real food company, aimed at transforming eating habits of the next generation across the UAE though providing fresh, wholesome and nutritious meals.
In collaboration with Slices, Dubai American Academy is committed to ensuring that healthy and tasty meals are offered to our students. A cashless system is implemented in our multiple dining spaces. Slices also offers the delivery of meals to KG classrooms so that the needs of our youngest students are met as well.
We haven't forgotten our parents. Our Slices parent café located in the Atrium offers healthy dining and snack options for all of our parents and visitors.
Questions can be directed to Shevine at [email protected] or by calling 054 792 7509.
Technical issues can be processed through the Slices Support ticket page: https://support.slices.ae/
Slices also offers food delivery to the classroom in the elementary grades.
Slices Elementary Parent Guide
Slices Middle and High School Parent Guide
Updated Menu
Slices Cashless System
As parents, we all understand that our number one priority is our child's happiness and performance at school. With Slices being your child's school food provider, our aim is to supply each student with a Slices Card to be used instead of cash to purchase their daily school meals. Parents can register online and top up their child's account to enable them to start using their Slices Card. Every time the card is presented at a till, the balance is displayed and this lets students know how much money they have available. Parents can top up from any PC, tablet or mobile device that has an internet connection and follow the simple instructions to add funds to your child's Slices Card.
Please register for your child's card https://pay.slices.ae/