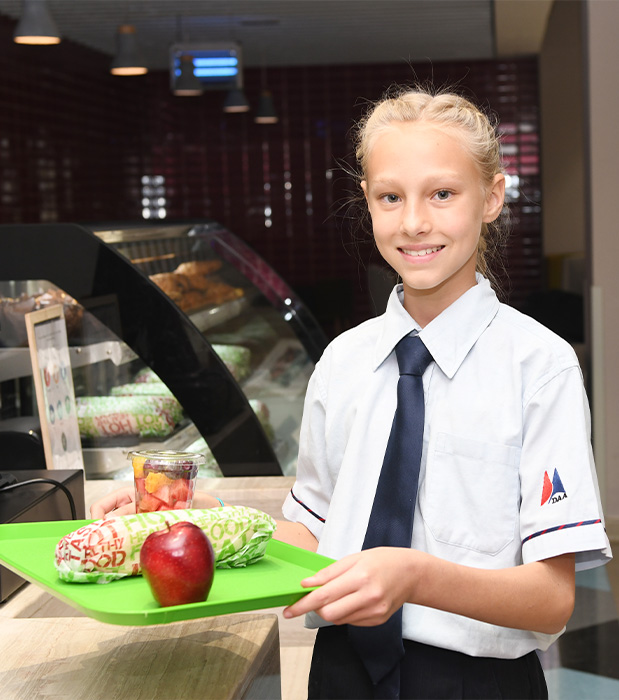 Slices Catering
Slices Lunch Service
Dubai American Academy is proud to partner with Slices, our school food provider. Slices is a home-grown real food company, aimed at transforming eating habits of the next generation across the UAE though providing fresh, wholesome and nutritious meals.
In collaboration with Slices, Dubai American Academy is committed to ensuring that healthy and tasty meals are offered to our students. A cashless system is implemented in our multiple dining spaces. Slices also offers the delivery of meals to KG to Grade 2 classrooms so that the needs of our youngest students are met as well.
We haven't forgotten our parents. Our Slices parent café located in the Atrium offers healthy dining and snack options for all of our parents and visitors.
Questions can be directed to Shevine at [email protected] or by calling 054 792 7509.
Technical issues can be processed through the Slices Support ticket page: https://support.slices.ae/
Slices also offers food delivery to the classroom for Elementary, KG - GR2. Please read the link below to order:
Slices Elementary Parent Guide
Updated Menu
Slices Cashless System
Slices, our catering service provider, offers lunch options for students. A cashless system is implemented on campus. All families who have access to the GEMS Parent Portal have automatically been provided with a Slices account. To recharge your Slices account through the web browser of the GEMS Parent Portal, please follow the below instructions:
1) Login to your parent portal account using your web browser: https://oasis.gemseducation.com/
2) Using your debit or credit card, top up your catering balance under the fee's drop down menu option. Any remaining balance from the previous academic year will automatically be reflected in the catering section of the parent portal account.