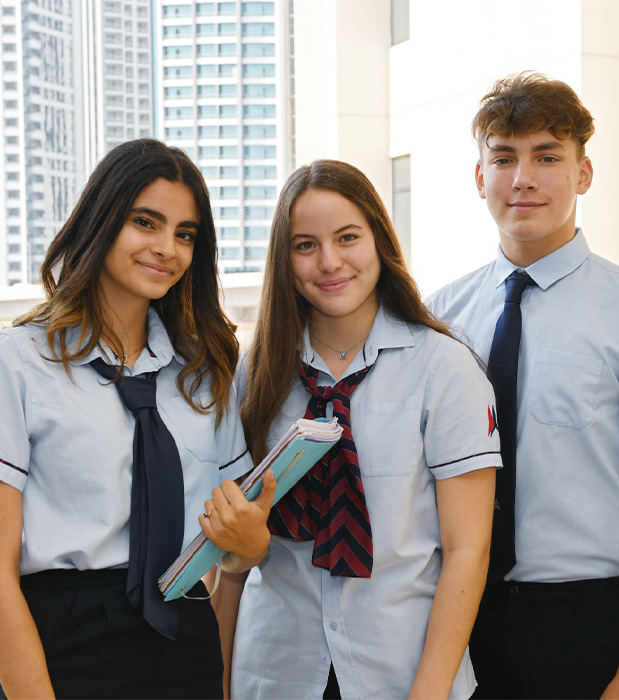 Admissions Process
How to begin your child's journey...
Step 1
To begin the application process, please submit your enquiry through the Online Student Enquiry and Registration page.
Step 2
Once you have completed the online application, you will receive an Enquiry number. Please keep it for your records as reference for all future correspondence and queries. Without the Enquiry Number, we cannot verify your Enquiry submission. An acknowledgement email containing the next steps will be sent to the email address you provided.
Step 3
After receiving the acknowledgement email containing your enquiry number, you will be requested to pay a Application Fee of AED525. This fee is non-refundable, non-transferrable, and non-deductible. You will also be requested to upload documents in order to proceed with the registration process.
Application fees are accepted in the form of AED cheques, cash, credit card or bank transfer.
Supporting Documents
The supporting documents that are required when a registration is submitted are:
Sponsor's Emirates ID
Applicant's Photo
Parent's (sponsor) Visa
Parent's (sponsor) Passport
Applicant recent school/nursery report (at least two years if applicable)
Applicant's Visa
Applicant's passport
Applicant's immunization
*The UAE Residence Visa and Transfer Certificate are not needed at application processing time, but will be needed at actual enrollment. These are required documents for the registration of the child by the Ministry of Education in Dubai.
Without the above listed documents the entry process for your child cannot be completed.
Please ensure that all relevant information regarding your child is included with the online Registration Form:
Information regarding allergies, special medical conditions, etc.
Up to date contact details, and emergency telephone numbers for both parents.
Please also check that your child has received all necessary vaccinations; consult your physician, if in doubt
Transfer Certificates
Transfer from a school outside of Dubai
Students transferring from a school outside of Dubai require an original hard copy Transfer Certificate. This should be obtained from your child's current school and submitted to our admissions office.
This link to our Transfer Certificate Guidelines will assist you with this process.
We have also linked here a Sample Transfer Certificate for reference.
Please be aware of the attestation rules for schools located in the identified countries.
Transfer from a school within Dubai
The Knowledge and Human Development Authority (KHDA) requires a system generated Transfer Certificate to register students at a new school in Dubai. If you have not done so already, please inform your current school of your intentions to withdraw. For those joining Dubai American Academy from another school within Dubai, please obtain a TC from your child's current school in order to complete the registration process at Dubai American Academy. Please bring the Transfer Certificate to School along with the parent and child(ren's) EIDs before the first day of school. In the absence of a transfer certificate, we are unable to properly register your child.
Entry Criteria
GEMS Dubai American Academy prides itself on an admission policy that does not discriminate against any child or family. All children are welcome to apply to GEMS Dubai American Academy, regardless of nationality, ethnicity or religion.

GEMS Dubai American Academy is a truly international institution which has limited spaces for children with special learning needs.

GEMS Dubai American Academy offers a high standard US/IB education to a range of students with varying learning needs and requirements. Teachers are expected to teach each student as an individual and meet their learning needs accordingly. For this reason, prospective students are required to undergo assessment tests before a place can be offered.
Throughout this process, the family is guided every step of the way by our friendly and efficient Registration Team.
Assessment tests include:
KG1 and KG2
All students must meet the age level requirements, meet academic grade level requirements, listen to and follow directions, and display classroom readiness. They must also conduct themselves in a respectful manner throughout the assessment.
For KG1 admission, children are assessed on campus or via zoom. Five main criteria are considered for successful entrance into the program:
Children must be age appropriate for requested grade level;
Be able to separate from their caregiver and demonstrate a readiness to participate in the classroom;
Be bathroom independent;
Be able to engage in an activity following direction;
Be able to demonstrate fine and gross motor skill development at age appropriate level.
For KG2 admission, the children are assessed individually. The following are the main criteria for consideration into the KG2 program:
Be age appropriate for requested grade level
Be able to engage in an activity following directions
Be able to demonstrate fine and gross motor skill development at age appropriate level
Be able to identify colors
Be able to identify numbers one to twenty and write one to twenty
Demonstrate early reading skills
Recognize letters of the alphabet with appropriate sounds
Grades 1 -12
GEMS Dubai American Academy employs a holistic approach to the process of evaluating students for entrance into the middle and high school. The evaluation process includes a review of the student's application, past school records and Dubai American Academy entrance assessments.
An online assessment is administered to all students. Either the MAP, this is a computer-based testing system built on 30 years of research and refinement. Basic skills of Math, Reading, and Language are assessed. the MAP assessment test is self-regulating and adapts to the child in real-time, as the test progresses for a pinpoint picture of learning, achievement, and readiness. CAT4 is an assessment of developed abilities in areas known to make a difference to learning and achievement – namely verbal, non-verbal, quantitative and spatial reasoning – and provides you with an accurate analysis of potential student achievement.
The assessment is administered to all students seeking placement from grades 1 - 12.
If the student is overseas at the time of the application, we can arrange a CAT 4 assessment with their current school. If your child has recently taken a CAT 4 or MAP assessment, please upload the reports along with the school grade reports as this may serve to expedite the admissions process.
For more information about assessment or requirements for entry, please call 04 704 9777.