Uniforms
Uniforms of GEMS Dubai American Academy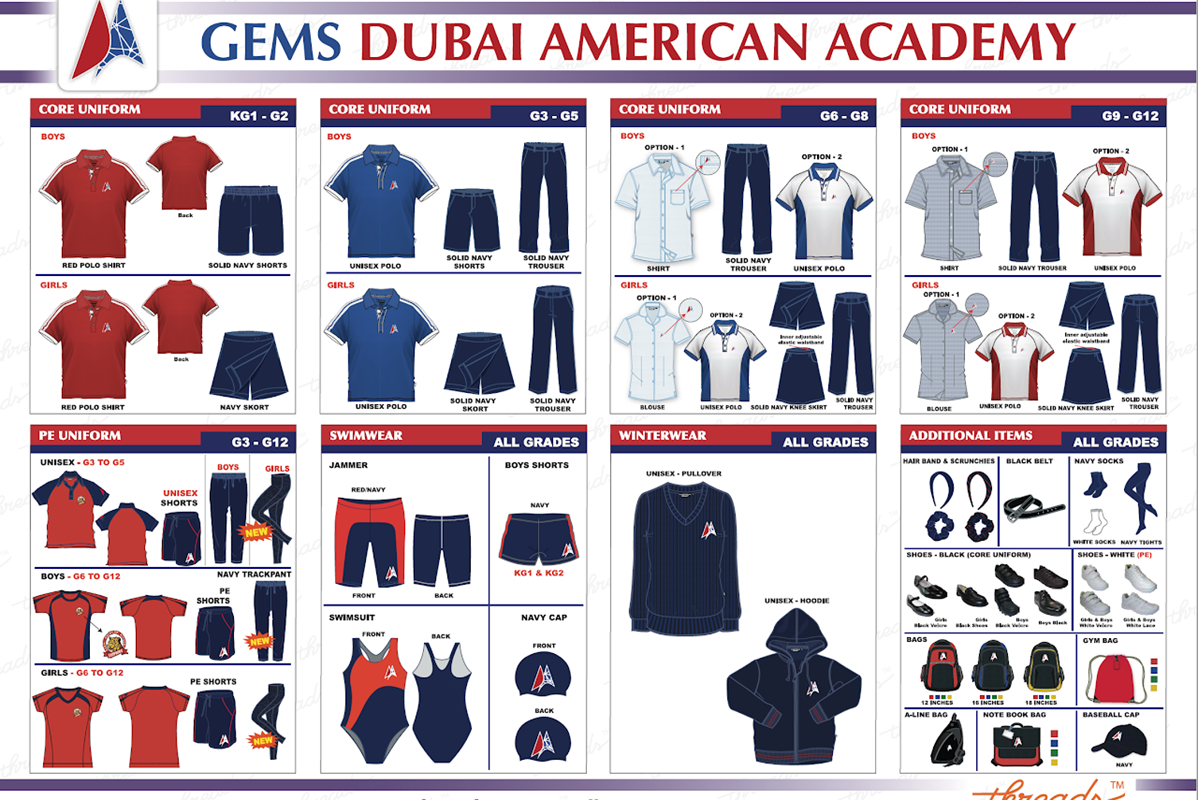 Elementary Uniform Requirements (K-5)
DAILY UNIFORM
Regulation Dubai American Academy red polo for KG1 to Grade 2 students, and blue shirt with logo for students in Grades 3-5;
Regulation blue shorts or slacks for boys;
Regulation blue skirts, slacks or skirts for girls;
Regulation elementary school tie (long ties for boys and collar ties for girls);
White, black or navy socks;
Black or White Activity shoes (trainers) with non-marking soles; dress shoes may be needed for school presentations. For safety reasons, no sandals please.
School caps for outdoor activities.
SEASONAL WEAR
Regulation cotton blue sweatshirt with school logo;
Regulation cotton blue sweater with school logo;
Other outerwear may be worn to and from school and kept in the student's locker/cubby. Students will not be allowed to wear non-uniform items during school, except on special event days.
PHYSICAL EDUCATION (PE) UNIFORM
KG1 - Grade 2 students do not have a separate PE uniform.
Grade 3-5 students:
Regulation Dubai American Academy polo shirt (or Dubai American Academy t-shirt);
Regulation blue shorts (solid navy blue cotton shorts may be purchased elsewhere; no logos or baggies permitted);
Regulation swimming suit (personal suits are fine – one piece tank type suit for girls).
Grades 3-5 students are required to wear the Daily Uniform (listed above) on non-PE/Swimming days. On PE/Swimming days, they are required to wear the Physical Education (PE) uniform.