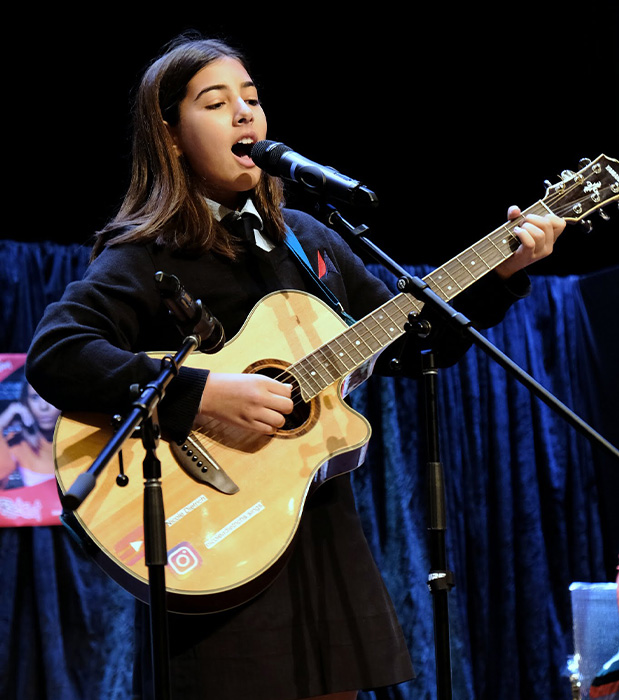 Arts
At Dubai American Academy, we provide our students with a vast selection of opportunities to engage in Art, Music and Theater, both during and after-school. Our students come away with a deep appreciation and love of the various art forms, mediums and genres. We encourage creative expression to support our students to create, design, direct or perform, wherever their passions may lie.
Our state of the art facilities with dedicated art, music, and theater spaces support in the production of professional grade content.
Visual Arts – dedicated areas for all grades

Facilities include:

Studios for 3D and 2D art
Ceramics / kiln room
Photography dark room

ES Yearbook Design Contest

Congratulations to our Yearbook Cover Contest winners, Lyn Huh in 5LD and Zayann Raza in 4LS! Lyn's art will grace the front cover of the 20th Anniversary edition of our Elementary Division yearbook and Zayann's will be featured on our back cover.

IB Art Exhibition

IB art exhibition Last week saw the work of our remarkable IB Art students on exhibition in the Art Dept. Their hard work and dedication from the last two years paid off with a fantastic set up, quality works and thoughtful conceptual ideas. The students took pride in talking through their work with the continuous flow of visitors throughout the exhibition. We feel incredibly grateful for the overwhelming support shown on the lead up and on the day of the exhibition. A huge shout out to our support staff for making the setup possible.

Facilities include:

Music rooms
Band rooms
Individual music practice rooms
Music technology suite
Recording studio

Choi/Band Concerts

The sixth grade beginning band students, 7th grade choir students and 7th and 8th grade Concert Band students performed an amazing concert. The beginning band students impressed us with their versatility, while the choir showcased their beautiful harmonies and moving solos. The Concert Band was precise and energetic, working as a team to produce powerful music. Congratulations to all students on a job well done. Your hard work, dedication and talents are obvious. Keep up the great job and thanks for sharing your talents with us!

Performing Arts - Theater and Dance

Facilities include:

Ultra-modern auditorium - 565 seating capacity
Two Black box theaters
Digital theater

Drama classrooms

Musicals/Productions

Over 150 MS students perform for the DAA community in seven different One ACT plays in the annual MS Theatre Festival. A big congratulations to all students who participated in the Theatre Festival's shows. It was a great afternoon of performances and the students can be proud of their efforts. Thank you to the parents that came to watch their children for supporting Drama in our Middle School. The shows were a fantastic way to end and celebrate the year.

IB Chief Theatre Examiner leads workshops in HS Theatre Classes

All HS Drama students took part in theatre workshops with Ms. Fenella Kelly: Chief IB Theatre Examiner, IB Curriculum Contributor and ISTA Artist. Fenella was extremely impressed with our students' skills of creativity and collaboration. Ms. Kelly is one of the only Western artists to train in the art from of Kathakali from Kerala, India and shared her love for the theatre form with our students. Fenella will also be working with our students in Vietnam in January along with HS Theatre Teacher, Mr. Downey. A review of IB Theatre was also undertaken by Mr. Downey with Ms. Kelly.

Facilities include:

TV studio / 'green screen' room
Radio suite
Mac lab / editing suite
Digital / blended learning zone
Students have the opportunity to participate in band, choir, school productions, and theater festivals.
Elementary
Music, and Art are part of the specialist subjects in the elementary School. In addition, the elementary students take part in winter and spring concerts and have opportunities to participate in the elementary choir club, the ukulele club or the grade 5 production.
Middle School
Middle school offers 2D and 3D art, including music and drama as part of the curriculum while providing an option for students to take part in the yearly musical production. The choir and band in the middle school have seasonal concerts.
High School
High School students can take advantage of a variety of classes in art, music and theater including IB Theater studies. Students can take part in the high school choir, orchestra, dramatic productions and have had exceptional opportunities beyond the classroom walls to develop their talents to their full potential.
Want to know more about our IB Theatre Program? Watch Below!