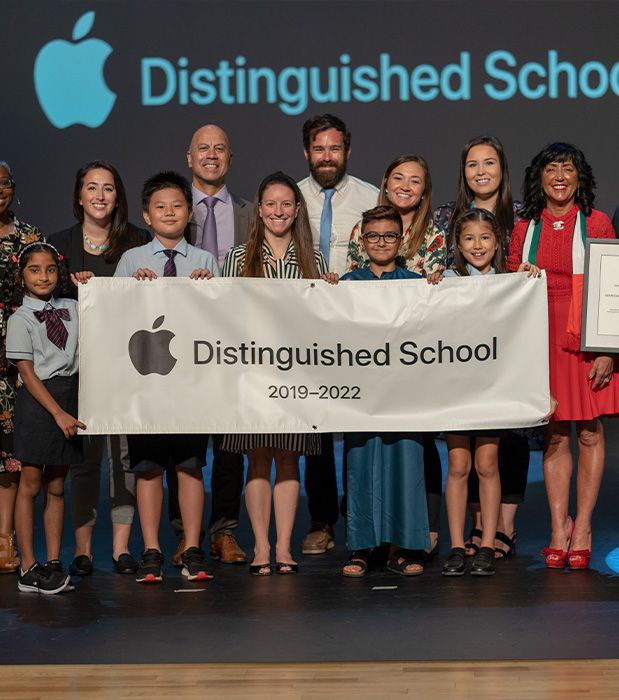 DAA Recognized as an Apple Distinguished School
Innovation in Teaching and Learning
GEMS Dubai American Academy has been recognized as an Apple Distinguished School from 2019 to 2022, for its continuous innovation in teaching and learning and implementation of Apple technology in student learning.
Apple Distinguished Schools are centers of innovation, leadership and educational excellence that use Apple technology to inspire creativity, collaboration and critical thinking. They showcase innovative uses of technology in learning, teaching and the school environment, and have documented results of academic accomplishment.
"We are thrilled that the innovative work of our elementary school educators has been recognized with an Apple Distinguished School designation" said Executive Elementary Principal Craig Cantlie. "At Dubai American Academy we are developing the world's future leaders and creators and Apple technology has been impactful in fostering the advancement of our learning journey. We focus on technology in the classroom as a tool for communication and creation and through that lens, our students are incredibly adept at leveraging the power of technology to both elevate their attainment of knowledge and creatively communicate their level of understanding. As a learning community of students, staff and parents we are honored to join the Apple Distinguished Schools community."
"We are extremely excited to receive this designation. This is a true testament to the efforts of our innovation team who work hard to empower our teachers to integrate technology across our curriculum." - Head of Teaching, Learning, and Innovation Dr. Lisa Ramshaw
According to Superintendent and CEO Tammy Murphy, the journey toward and designation as an Apple Distinguished School affirms that Dubai American Academy is truly able to provide a personalized learning journey for each and every one of its students. "We want our students to always remain curious. We can be sure that being curious will certainly be a key disposition in a world of dynamic and rapid changes. We are teaching our students to harness curiosity, use the resources to the best of their abilities and work collaboratively for a better tomorrow. When the content, the tools, the motivation and the processes all line up, then we know that we are on the right road. The integration of technology in our curriculum allows us to truly design a school that is future focused".
The selection of GEMS Dubai American Academy as an Apple Distinguished School highlights its success as an innovative and compelling learning environment that engages students and provides tangible evidence of academic accomplishment.
With 1:1 iPad devices in its classrooms, the school enables its students to be constantly innovating, creating and thinking critically. Whether it's creating Keynote GIFs, using iMovie to make tutorials to share with peers, or creating multimedia eBooks, students and teachers create and collaborate anytime and from anywhere.