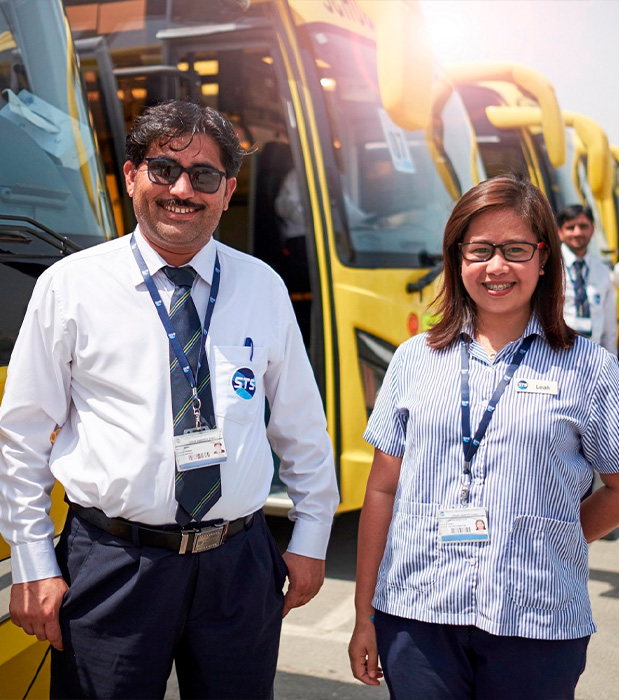 School Transport
What you need to know...
Transport for Dubai American Academy is operated by School Transport Services (STS) LLC. All transport services are handled directly by STS.
As a parent, ensuring that your children get to and from school safely and comfortably is our first priority, but it can often be difficult to juggle dropping your children off at school and picking them up again at the end of the day.
STS have been providing school transport services safely for more than 10 years and are the only ISO accredited transport provider. STS deliver the highest quality school transport services in the region, that offers our parents real value for money. STS have an extensive fleet which is equipped with the latest technology to ensure safety, quality and comfort. All STS Bus Drivers and Bus Guardians undergo rigorous training programs that are delivered in our dedicated facilities by our specialist, accredited trainer. They are trained in safe and responsible driving practice that is in line with RTA regulations and in the safeguarding of students. STS ensure that their operations and delivery far exceed regulatory requirements and always strive to achieve service excellence.
STS's commitments to Dubai American Academy are to:
Always providing a Safe, Timely, Smart journey to and from school;
Never compromising on the health and safety of students, teams and the environment;
Delivering on their promises through effective communication, teamwork and commitment;
Listen and drive innovation solutions that add value for Dubai American Academy;
Be open and transparent with the school, parents and students.
How to Apply
To apply to use the bus services, please print and complete the following forms and submit to the onsite Service Delivery Executive.
Don't worry if you live outside of the standard service areas listed on the Transport Rate List. We would be happy to speak to you about personalized travel arrangements and will try our best to accommodate all requests. However, please note, STS cannot guarantee all bus routes requested.
STS now handle all payments directly, as well as the issuing of receipts. All registration and payment of transport fees should be made directly with STS and all cheques should be made out to 'School Transport Services LLC'.
For all transport enquiries please contact Kelvin Sicat, [email protected]