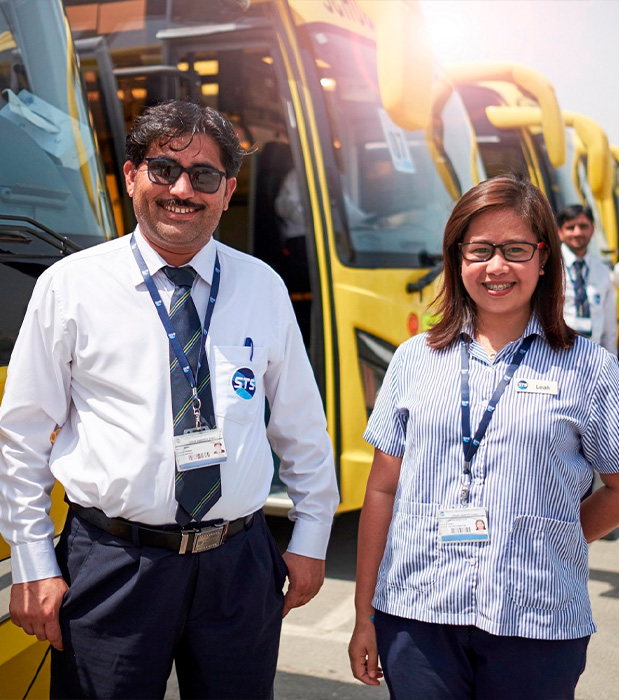 School Transport
What you need to know...
GEMS Dubai American Academy's official transport provider is School Transport Services (STS), a part of STS Group of companies. STS is the only ISO certified (ISO 9001:2015, ISO 14001:2015, ISO 39001:2012 and ISO 45001:2018) school transport provider. STS is the proud winner of the prestigious Dubai Quality Appreciation Programme (DQAP) 2011, Dubai Award for Sustainable Transport 2010 and 2012 in the categories of School Transportation & Transport Safety. STS has received three Royal Society for the Prevention of Accidents (RoSPA) gold level awards for its work to ensure its staff, students and customers return home safely to their families at the end of every day. STS operates the bus fleet, maintaining exceptional safety standards and adhering to the specifications and regulations laid down by the Road Transport Authority of Dubai. All buses are fitted with Video Surveillance System, Global Positioning Systems and scanners for the purposes of student attendance confirmation and safety.
STS is managed by highly experienced professionals who have a long track record of safe transportation of students. STS works closely with the school administration team to ensure that parents and students receive the best service possible.
STS's commitments to Dubai American Academy are to:
Always providing a Safe, Timely, Smart journey to and from school;

Never compromising on the health and safety of students, teams and the environment;

Delivering on their promises through effective communication, teamwork and commitment;

Listen and drive innovation solutions that add value for Dubai American Academy;

Be open and transparent with the school, parents and students.
How to Apply
To apply for the school bus services, please print and complete the following forms and submit to the onsite Service Delivery Executive.
Please note that STS will not be able to guarantee all bus routes requested. For all transport enquiries please contact Mr. Kelvin Sicat, [email protected]