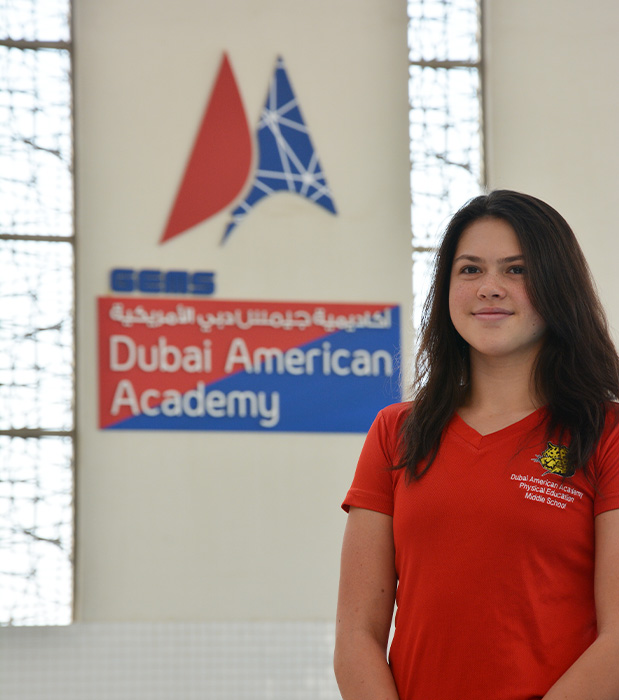 Going Behind the Scenes With a Champion
Victoria Bergeli
If you've ever wondered what it takes to commit to a dream of becoming an Olympic champion, Victoria Bergeli, currently a Grade 10 student at GEMS Dubai American Academy, is the person to ask.
Victoria specializes in freestyle and butterfly – just like her idol, Sarah Sjostrom, the great Swedish Olympian. Her day begins at 4.15am in the morning.
"Despite waking up before dawn and having to manage my time between a busy schedule of practice and schoolwork, swimming has become my passion. It gives me purpose, and the best part about it is the satisfaction of achieving the goals I set myself. It has also given me incredible memories and friends, in the swimming community"
Consistent training is the key to success.
Victoria began swimming when she was 10. Back then it was just something to do over the summer, a casual and fun activity she did for fitness. But her natural ability as a swimmer soon convinced her to take the sport more seriously.
Fast-forward to the present, and Victoria is now a member of the Junior Norwegian National Swimming Team – and has been for the last three years. In fact, she is Norway's highest ranked female swimmer in her age group.
"Swimming has become a part of my everyday life, and I stick to a schedule of eight training sessions in a week, sometimes in the mornings before school and always in the afternoon," says Victoria. "My week starts early on a Sunday morning. During the
week, we do a mix of swimming, land training, and gym work to improve our overall fitness."
Victoria's advice for beginners who want to take up competitive swimming is to enjoy the time they spend in the pool: "Although sometimes it can be challenging, enjoying the sport and keeping an open mind to learning new skills will help you improve massively."
She also advises beginners to be patient. "Mastering a stroke or achieving a certain time in race conditions does not come overnight," she explains. "It takes consistency and time. You will have setbacks, but when you finally achieve your goals, it's worth the wait."
Dreams for the future
Victoria currently holds 12 Middle East and South Asia Conference (MESAC) records in swimming, and has won several medals at events held by the Conference. However, the dreams that drive Victoria play out on a far greater stage. "Over the short term, I aim to win medals and break junior records at the Norwegian Nationals, but my next big challenge will be at next year's European Junior Championships," she says. "I'm hopeful that my swimming will help me pursue a university education in the United States, but my ultimate dream is to compete at the World Championships and the Olympic Games."