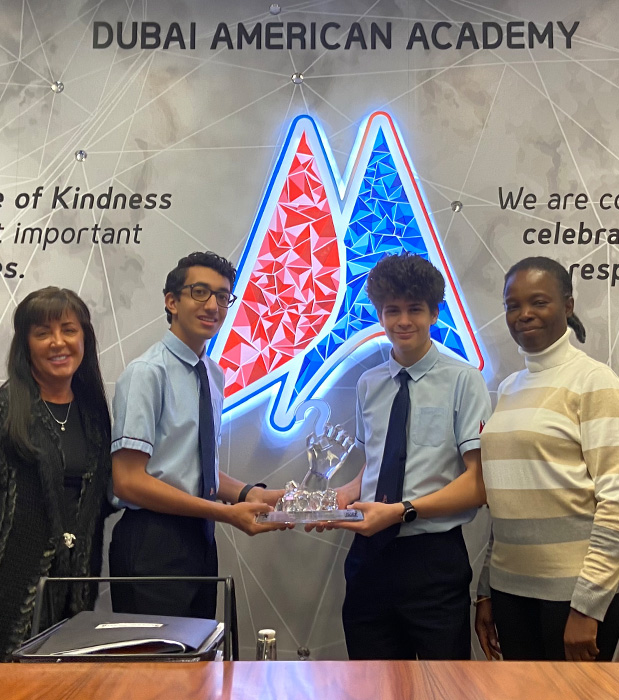 Quest for the Best
Omar El Maaryerghi and Christian Psycharis
In May 2019, 15 Dubai American Academy students from Grades 7 through to 11 took part in the annual STAR TV Quiz competition. The competition is a live TV quiz competition, hosted and broadcast by the STAR Middle East and Africa channel, featuring schools from around the UAE and beyond. This year, 75 schools and over 1700 students competed for a spot in the live elimination round. The students competed in teams of two and the top team from each school progressed to the live shows.
The DAA team of Omar El Maaryerghi (Grade 11) and Christian Psycharis (Grade 10) eventually qualified for the live elimination round, and after many intense hours of on-air competition, Omar and Christian were victorious and brought the STAR TV trophy home to the Academy.
Both students have been a part of the DAA's Academic Games. Omar will now take on the role of captain of the Varsity team next year, whilst Christian is looking at this victory as his springboard to join the Varsity team. Beyond DAA, Christian is thinking about a career in Law, whilst Omar is focusing on Computer Science and History.
"We managed to make it to the quarter-finals one year and knew we could go further. For the questions, there is always a strategy behind how to answer. Keeping your nerves and avoiding stress is often the hardest part. Both myself and Christian are really grateful to the whole DAA team and our teacher Dr. Ajayi. We're really happy with our capabilities and the outcome." - Omar El Maaryerghi
This is the second time that DAA has been victorious in this competition. In 2015, Kshitij Seth and Felipe Cuellar also took first place.
"Dr. Ajayi is so dedicated and influential. She encourages and wants the best for us and we wouldn't be here without her support." - Christian Psycharis
These DAA victories are largely due to the formation of the Knowledge Masters Club - a general knowledge ASA that has been running since 2004 that contributes towards the students' access to DAA's Academic Games, the Varsity team and other knowledge-based competitions.
STAR Quiz Challenge 2019
Grande Finale
Watch Omar and Christian's victory