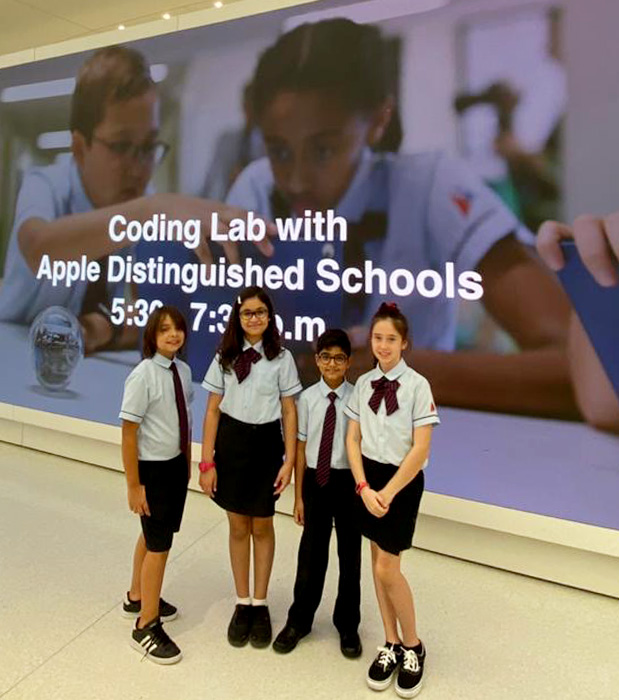 Zahaan Hasham: "My Experience Coding at Apple"
Zahaan Hasham
The goal of our Student Innovation Team is to empower our students to lead learning around technology throughout our school. This group of students is responsible for demonstrating, teaching and sharing their learning to all members of our school community - parents, students and teachers. Our goal for the Innovation Team is to have a group of students that acts as the catalyst for new ideas, creativity and innovative learning. Zahaan is 10 years old and in Grade 5 at DAA. He is in his second year at DAA and his first year on the Student Innovation Team.
What does the DAA Student Innovation Team do?
We are responsible for organising events, learning about new apps, testing them out and teaching other students about technology. We also get asked to speak or present at different events.
What is your favorite educational app now? Why?
I really like using the 'Inspect' tool on Google on a computer because then I can look at the code of a website and change it to see what happens on the website. Of course, I love the Sphero EDU app because I can actually code a robot and it's block-based coding which is helpful, but I can also do text-based coding when I'm ready for more of a challenge. I also like the EyeJack app because I can scan something and have my Augmented Reality animation show up.
When did you start to be interested in coding?
I first started being interested in coding when I was 6-years-old. This happened because many of my friends' parents at my old school in Canada were coders. I also just like looking through the App Store and that's how I found the Sphero EDU app and then my Grandpa got me a Sphero to code. I've also done ASAs around coding too. Last year we did a tech day in Grade 4 which helped me get interested in other kinds of coding and robotics.
Why do you like coding?
I never get bored when coding; it keeps me occupied for hours! It's really a lot of fun. It's the language of the future. We are probably going to have tons of robots in the future and we will need to know how to use them.
What was the experience like leading a Coding Lab at Apple?
It was really exciting. I was extremely nervous because I've never used a microphone headset and Mr. Cantlie was there, so of course I was nervous! It was really fun, especially to be able to work with another school. I enjoyed teaching other kids about Sphero too.