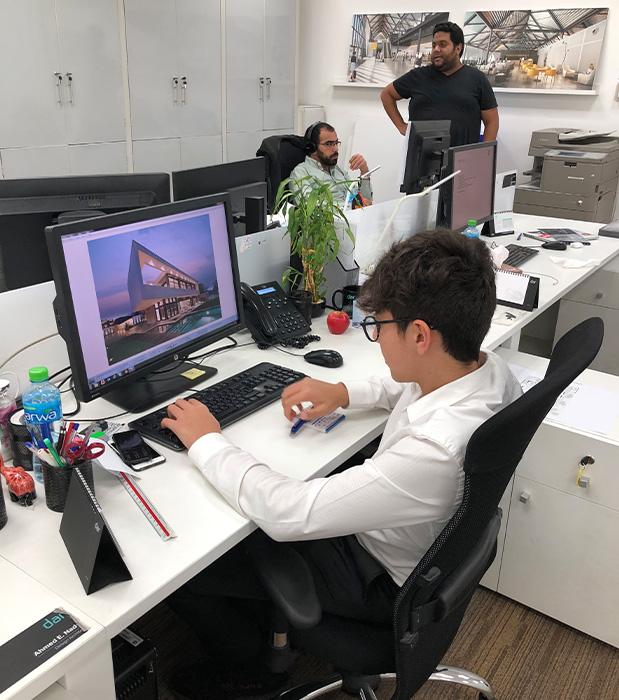 Merging Architecture and Aviation for Work Experience Week
Daoud Sumrein
As part of Higher Level Trips and Careers week, high school students to take part in international trips centered around service learning, or engage in work experience at companies within the UAE and around the world.
Describing his experience in the High School work experience week as a 10th grader. Daoud's testimonial:
Going into the year, I was highly anticipating the work experience week as I could finally get a picture of what I wanted to pursue in my future career. I was struggling to decide between my 2 passions, Architecture and Aviation. I always knew architecture had an edge and I knew that I would search harder for it and thus, I did, I found the perfect opportunity at Dar Al Handasah, an engineering firm with an architecture department. I had begun work on Sunday, the 28th of April and it ran through until Thursday, the 2nd of May. They had assigned me a project to build design a venue at the Expo 2020 site and so I had began, They showed me all the fundamentals and research that I had needed to create a "pitchable" presentation of the venue. Through the week I had worked and developed my project with the aid of the experienced staff.
"I presented my final design to the Head of Architecture and was invited back for a summer training course. I was very excited and couldn't wait to begin with them."
That week was definitely one of the most important weeks of my life as now I have a clear idea of the path I want to take in life. I would really like to thank the Dar Al Handasah firm and DAA for giving me this opportunity and would definitely recommend that every student take advantage of Work Experience Week.
Daoud has spoken to parents and students about his experience. He presented at a student assembly where he inspired students about the possibilities and the successes he had during work experience week.