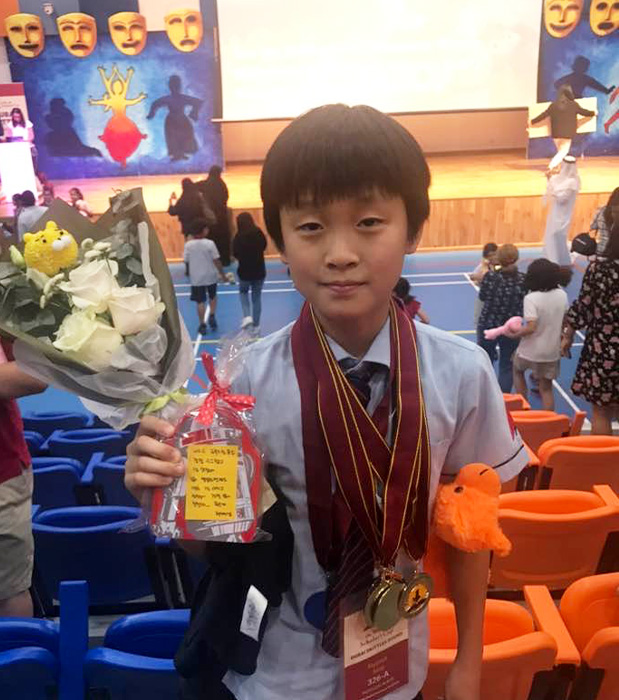 Great Achievements at the World Scholars Cup
Two DAA Grade 5 students recently took part in a prestigious international team competition with students participating from over 65 countries. The World Scholar's Cup competition was founded in 2006 with the aim to attract students interested in learning beyond the typical school curriculum and to focus on bringing students from different cultures together to discuss issues and ideas relevant to today. The competition involves multiple-choice examinations, debating challenges, artistic interpretations and literature tests. Hyosuk and Dongwook from DAA 5th Grade both participated in the Junior Section of the Dubai Regional Round. Here, Hyosuk tells us how they got on.
Who are you and where are you from?
My name is Hyosuk and I came to Dubai from Korea in 2017.
How long have you been at Dubai American Academy, Dubai?
I have been at DAA since Grade 2, which makes it three years now.
How did you get involved in the World Scholar's Cup (WSC)?
In September, my English Teacher, Ms. Becky told me about the World Scholar's Cup (WSC) for the first time. The World Scholar's Cup is an international team academic program with students participating from over 65 countries. It includes debates and collaborative writing assignments in a team of three people. This sounded like something I could really be interested in, would be a lot of fun and would help me learn a lot in a short time. I had to try it out for myself, so during the WSC study period, I took a deeper look at art and music and analysed my favourite pop songs.
Tell us more about the WSC competition and what it involves.
I was surprised that the competition was held all day with a closing ceremony in the evening. If you pass the first qualifying round and do well in the second global round, the teams can then advance to the final round. The final round is held at Yale University in the US.
How did you and your team prepare for the competition?
We prepared for over three months through sessions with Ms. Becky twice a week and further preparation work at home. A month before the event, we were very busy with rehearsals and finishing everything.
Who is a part of your team and how do you work together?
Our team includes myself, Dongwook and Jaemin. We are all from South Korea. Dongwook is another DAA student and, as a team we make sure to focus on our teamwork. We help each other with every task and we make sure to never get mad or frustrated with each other or the competition process. We're a very calm team.
So, how did it go? Did you win any medals?
It went better than we could've hoped for. As a team, we achieved five medals; three Gold and two Silver:
Team Prize (Gold)

Teamwork (Gold)

The Scholar's Bowl (Gold)

Team Debate (Silver),

Champion Team (Silver)
The Silver medal for Champion Team means that we have qualified for the Global Round, held in Beijing, Astana, Sydney, Manila, The Hague or Durban.
Individually, I also achieved:
Art Challenge (Gold)
Literature Challenge (Gold)
I feel really happy and proud of myself and the team and I can't wait for a good performance in the forthcoming Global Round.
Aside from the obvious victories, what was your favourite part of the WSC competition?
My favorite part of the competition was Debating, because debating with other children is always interesting and challenging. It's also great fun for team members to share ideas and research on topics in order to be successful. It's a true team effort.
Who do you look up to? Has the WSC process given you any role models?
I look up to my friend, Dongmin. Dongmin is a 7th grader at DAA and also qualified for the WSC Global Round last year. He's our teammate's brother and helped us out during this year's WSC process. He provided us with a wealth of information on what to expect, what to plan for and encouraged us along the way. He always praised, advised and supported our team. I always hoped we could do as well as he and his team during the competition and I hope to be like him when I reach 7th Grade.