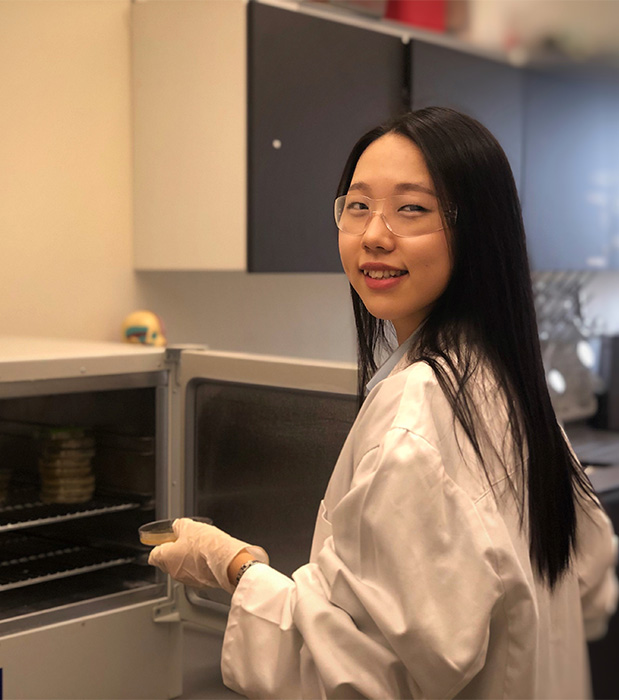 Entering the British Biology Olympiad
Soyeon Park
Soyeon is a remarkable young woman who has a real passion and love for Biology. Her drive for understanding really shows in all aspects of her work. She decided to enter the British Biology Olympiad last month and scored in the top 6.2% of all candidates from across the globe. For this competition she has earned a Gold award and was invited to England to attend the award ceremony at the Royal Society in June.
Soyeon also is very involved in our community. She is currently developing a special patch for patients that have issues with drooling. The patch sits inside the mouth to absorb the excess drool so that they can feel more comfortable going out in public. She is also helping to develop at home exercise programs for tremor patients. Her interest in this has led her to write a research proposal on the role of Lewy bodies in Parkinson's patients and how the use of ultrasound techniques could help alleviate some of the symptoms.
Soyeon is a humble and yet extremely gifted IB Biology student and she makes the DAA Leopards proud!
Q&A
Who or what inspired you to become a keen biologist?
At first, in fact, I wasn't a type of student that was deeply into science and biology. But when I began to learn more and more about the topic in school and in online learning platforms, I became genuinely interested in the mechanisms and dynamics of biological systems; especially, I was fascinated by the highly meticulous and sophisticated structure of living organisms, and how humans are yet to have an incomplete understanding of them. I think this interest culminated during my internship to a research lab, where I came to a realization that I feel most happy when I delve into the mysterious unknowns of biological systems, encounter anomalies, and discover things that were formerly unelucidated. Since then, my dream career has been becoming a molecular biologist.
What encouraged you to enter the British Biology Olympiad?
As a student that absolutely loves Biology and devotes most of my time in it, I wanted to test my level in the field of Biology and challenge myself to go beyond the tests I take in school. But most importantly I believed that I will gain a lot of knowledge and experience during the process of studying for the Olympiad itself, rather than just the results. It is meaningful to me in multiple ways, in that I can realize my limits, strive to overcome those limits, and ultimately move closer to my future career of being a molecular biologist. So I am still eagerly looking for any other science competitions that I can participate in.
Tell us about the British Biology Olympiad and what this means in the world of Biology?
I think that all Biology Olympiads, highly competitive in nature, serve to stimulate students that have a strong drive towards the subject to further develop their interests. Of course, one of the biggest advantages of taking the Olympiad is that it looks good on the resume; but for many students it serves as a platform to discovering their talents or interest, which in turn may even motivate them to pursue a career related to Biology. So from the perspective of the field of Biology, I think that Biology Olympiads play a role in cultivating talented students that would become a valuable asset to the development of the field in the future.
Tell us about your own community work.
This year I made a club named "I'm Your Genie", where the club members dress up as superheroes or Disney characters and volunteer at children's hospitals. We aim to form strong bonds with young patients in local children's hospitals and help them relieve stress from prolonged hospitalization. During the weekends, I devote much of my time in volunteering at a rehabilitation clinic. I especially encounter a lot of patients with neurodegenerative diseases, from whom I get inspirations to develop exercises or devices that may improve their medical conditions. I also use my ability to read and write a bit of Arabic and Korean to engage in various translation activities.
What role has your school played in helping you to take an interest in Biology and to achieve results?
When I initially showed interest in taking the Olympiad, my teachers greatly supported me in arranging all the competitions and providing me with supplementary materials. They not only helped me learn the contents, but also became my mental supporters to whom I physically and emotionally rely a lot on. Their motivational words and compliments always propel me to reach my potentials as a student and as a person; without their support, care, and efforts, I would never have achieved successful results in the Olympiad.
How do you think schools can improve their focus on such initiatives?
I think many students with talents often fail to participate in various competitions simply because they are not informed about such opportunities. Maybe if schools set up a platform where students are constantly informed about available competitions or contests, they can get more students to engage in those events and achieve successful results that contribute to not only to the students themselves but also to their schools.