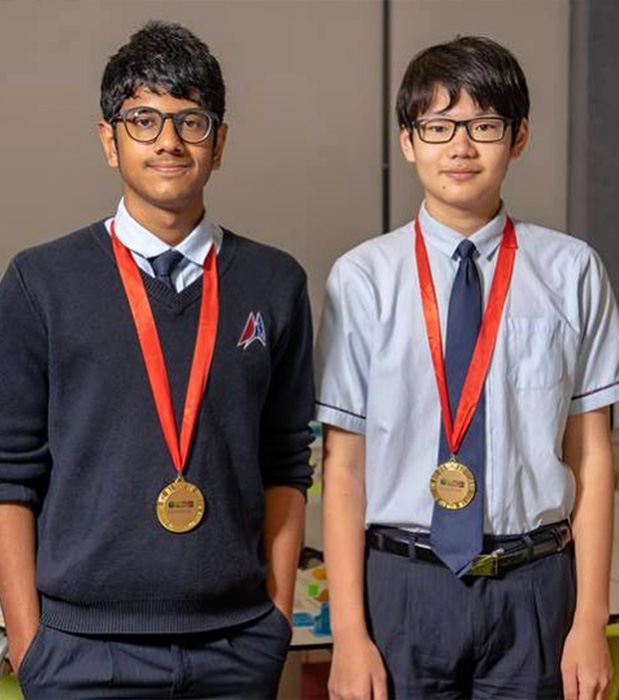 DAA Students' Project Shortlisted at the Global Innovation Challenge
Varun Rajeev Nair and Rongxuan Tian
A Dubai American Academy duo have been selected as 1 of 12 semi-finalists from a field of hundreds of projects from students across the GEMS network to compete in the Global Innovation Challenge.
The duo's project was selected during the fourth edition of the region's largest youth innovation and entrepreneurship exhibition in Dubai on 8 February. The GEMS Global Innovation Showcase saw over 1,500 youth innovators across 400 teams present their technology-rich solutions to global and corporate challenges.
Participating teams used exponential technologies such as machine learning and data science to address the world's most pressing issues across a range of topics including healthcare, education, disaster resilience and prosperity. The students exhibiting at the events, which are part of the annual Global Innovation Challenge, were shortlisted from a pool of 50,000 students across the GEMS Education network. 100 industry judges assessed the teams on innovation, feasibility, passion and impact.
Dubai American Academy's student duo, Varun Rajeev Nair and Rongxuan Tian developed the Pura Robotic Waterbot Prototype using a Hummingbird Robotics kit. Their autonomous robot purifies dirty river and lake water that filters through it but also, more importantly, collects data on the water samples for scientists to use to help solve water pollution issues.
Now selected as semi-finalists, Varun and Rongxuan will be inducted into a two-month acceleration programme that includes personalised
industry mentorship and entrepreneurship workshops covering design thinking, prototyping, business planning, marketing and pitching. The workshops will cover topics including design thinking, lean start-up, value proposition, market research, prototyping, brand identity, funding, marketing and IP.