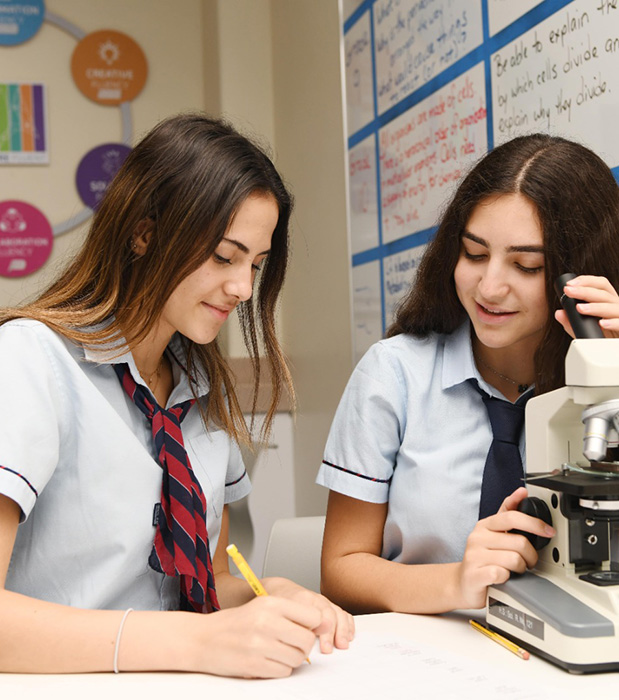 Teaching, Learning and Innovation
Teaching, Learning and Innovation at Dubai American Academy places design and computational thinking, cutting-edge robotics, coding and digital at the core of all learning experiences.
Dubai American Academy offers a highly-distinguished and world-class education delivering outstanding outcomes and experiences for all students.
Teaching and learning at Dubai American Academy is an innovative, transparent and collaborative experience, that meets the diverse needs of all students through personalized learning. Students drive lessons through their curiosity, agency and choice, promoting engaging lessons that require critical thinking, risk taking and reflection. The integration of future focused, cutting-edge robotics and exponential technologies across a socially-responsible, interdisciplinary curriculum will guide our revolutionary and personalized approach.
These future-focused learning experiences will empower and enable our students to become the next generation of innovators, entrepreneurs and leaders capable of challenging, influencing and sustaining the world they will inherit. Dubai American Academy supports the student learning journey by providing an outstanding, inspiring and inventive environment, underpinned by the latest research from our university and industry partners.
Features of Dubai American Academy's pedagogical approach include:
· Inter-connected/real world Learning – focus on interdisciplinary and inquiry-based learning, leading to digital and technology-enhanced solutions to real-world problems
· Innovation and Creation – inspiring our students to challenge convention and create the future by influencing and changing the world through new and entrepreneurial solutions
· Quest for excellence – promoting academic, athletic, and artistic excellence which empowers students to extend and surpass their potential
· Future-focused – mastery of multiple fluencies to support genuine world-class learning, personal and altruistic growth and future readiness, employing Coding, Critical Thinking, Communication, Collaboration, Citizenship, and Creativity at the epicenter of our teaching and learning program