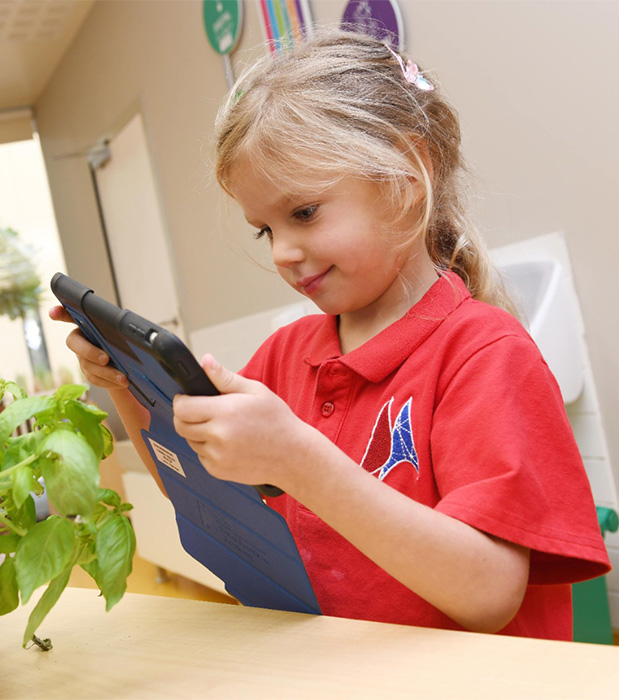 Elementary Innovation
Innovation in our school is a wider movement to empower all members of our community.
Our vast array of educational technology tools allow our teachers to embed drones, hands-on
coding, trips around the world with VR and so much more into learning. iNNOVATION at DAA is a mindset and our ED-Tech allows us to fully engage our students in the joy of being future focussed.
Creating change-makers is a core part of what we do at DAA. Through our innovation vision and mission, we have set our sights high and seek to provide transformative learning experiences that connect and engage all learners.
Our enriched American curriculum is deeply rooted in inquiry and higher-order, critical thinking.
Bring Food Webs to Life with AR

After selecting an ecosystem to study, Grade 5 students researched the interconnectedness of living things within their selected ecosystem. To further explore how living things depend on each other to survive, students played a food web tag game, while a drone recorded overhead. Students in a class were assigned one of the following roles: producer, consumer, or decomposer. They were provided with a brief definition and introduction for each role. The teachers set up various scenarios and asked students to think about what a producer, consumer, or decomposer would do in such a scenario. Scenarios included "an environment with too many consumers" or "no decomposers". Students then observed the changes on the drone video and this provided them with a deeper understanding of the interconnectedness within an ecosystem. After learning about decomposers, producers, primary, secondary and tertiary consumers more deeply, students created objects in Keynote using shapes, photos and Instant Alpha. These elements were then imported into the AR Makr app and students designed food webs in augmented reality. They recorded videos of and added audio in iMovie to explain the relationships between the living things in their food web.

Being able to see things not as they are, but as how they could be promotes creativity and innovation. To celebrate Innovation Day, Grade 3-5 students were challenged to do exactly this by selecting a learning space in DAA and redesigning it. Students were put into collaborative groups, and in the days leading up to Innovation Day, students used the Solution Fluency model to frame their planning process as they defined their goal and dreamed up a plan. Each group was required to create a blueprint, put together a budget, and design a digital or physical 3D model using any app of their choice. The Gifted and Talented students in Grade 5 collaboratively designed a rubric to assess each project, and at the end of Innovation Day, groups presented to their classes. The top group from each class was asked to create a persuasive presentation as they proposed their ideas to our Senior Leadership Team. Selected designs were implemented throughout the school over break, allowing students to see the impact they could have on their world.

Introduction to computational thinking and coding begins in the early years and is embedded through various specialist classes as well.

In celebration of Dot Day, students in KG1 and KG2 first read the book 'The Dot' by Peter H. Reynolds and then explored the creation of various dots with numerous art tools. Students then used Spheros dipped in different colors of paint to collaboratively create art with dots. Students used the Sphero EDU app and learned how to free drive the Sphero within a confined space. They also used iPad to record each other through the creation process. Students discussed the way the creation of art has changed over time with the invention of digital tools such as Spheros.

We Can Make a Difference!

First grade students inquired into the reciprocal relationship between humans and the environment. They first explored how the environment affects them. They learned about biomimicry and about inventions influenced by nature or living things. To really engage with the real-world, students used their iPad to conduct research, learn about different inventions, and focus on specific animal adaptations.

The second portion of the unit encouraged students to think about how humans affect the environment they live in. Each first grade class focused on a different biome. After learning about their selected biome, each class collaboratively built a model of their biome and filled it with living things. Students also visited the Green Planet, a created rainforest biome in Dubai. Once the models were complete, teachers came in and told students that humans wanted to move in and live in their biome, so they led class discussions on what humans need to live.

Students then created models of buildings humans would construct if they were to live in the biome. The teachers then "destroyed" the natural biome to put the buildings in place, magnifying the human impact on the environment for young learners. Shocked by their "ruined" biome, students and teachers then discussed how humans can affect their environment.
Additional Social Content