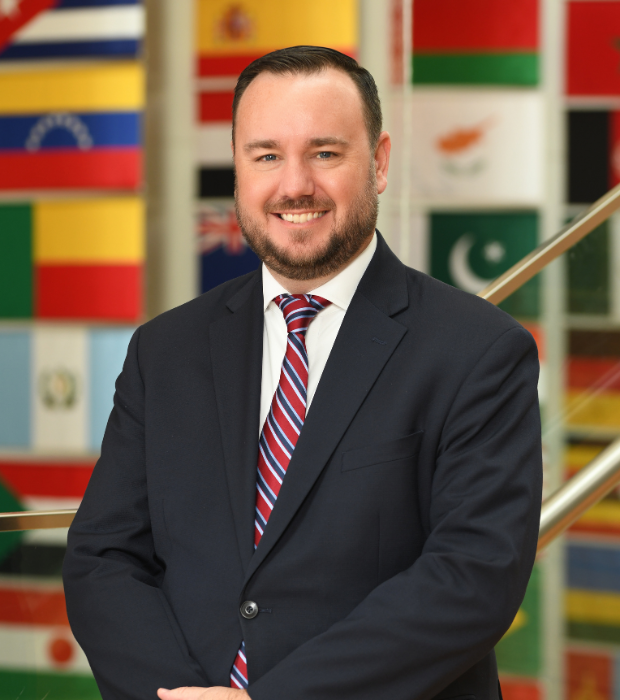 Dr. Cody Yocom
High School Principal
Dr. Cody Yocom joined GEMS Dubai American Academy in August of 2022. With over a decade of experience as a principal, he has successfully led schools and classrooms that help students reach their potential and find innovative ways to grow and develop.
Dr. Yocom led the secondary of an IB World School in Frankfurt, Germany, where his students had a 100% passage rate on the IB exams, consistently scored above the world average, and had a student with a perfect 45 IB score during each of the years of his leadership. He previously served as the founding principal for a private school in Oklahoma City with a unique corporate work study program. The school was named the Best Private School by the Oklahoma Journal Record in 2020. Previously, Dr. Yocom was a secondary school principal in Dallas, Texas for one of the best schools in the country at growing students, according to MAP and ACT data, consistently out performing the world average on growth in reading, math, and science.
A graduate of the University of Texas at Austin (BS), Roosevelt University (MA), and Dallas Baptist University (EdD), Dr. Yocom has completed research and authored articles on educational leadership. Additionally, Dr. Yocom completed the prestigious Ryan Fellowship, a paid year-long post-degree leadership preparation program in collaboration with Accelerate Institute and Northwestern University. Dr. Yocom holds educational certifications as a teacher, principal, and superintendent.
Dr. Yocom is married to Maria (a science teacher at DAA) and has two children who attend DAA. They are excited be part of the Leopard family.